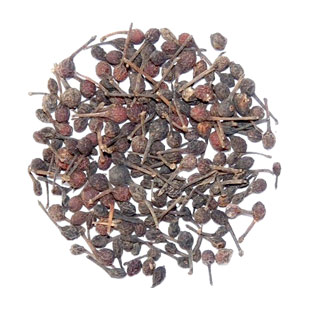 Madagascar voatsiperifery pepper
The Madagascar Voatsiperifery pepper is a namely "wild" pepper, endemic to the island. It is a liana belonging to the Piper borbonese family, although this classification is now being questioned. CIRAD has for several years lead a study on the genetics, domestication, and characterization of this specie, and also measure the social and environmental impacts of its culture.
There are indeed several phenotypes (during characterization) and several types of post-harvest treatment which will produce wild peppers with quite different visual and organoleptic qualities. There are several colors:
Intense Black
Gradient bright red to black
Gray to black
And several flavors:
Spicy with a long finish, while developing the flavour characteristic of the product (i.e. this is the product offered by Jacarandas).
It is spicy to the palate, evolving towards a slight bitterness at the end.
It is spicy and with a long finish, with notes of mint in the background.
The Voatsiperifery Wild Pepper grows in primary and secondary Madagascar forests. The collection proves to be particularly dangerous and perilous as it can be collected at more than 10 meters.
But in many areas, crop conditions are different from the "acrobatic gathering". This is primarily the pure cut of the vine, best case scenario, even the clean cut of the guardian tree. In secondary and primary forest, mature trees guardians account in decades.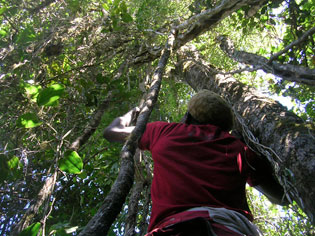 The issue of environmental protection must be at the heart of the concerns of all stakeholders of the agricultural sector in Madagascar. And it is clear that this is not an environmental vector, quite the contrary.
We could not accuse the wild pepper to be the cause of deforestation in Madagascar, although it contributes, to a lesser extent… This sector is not sustainable in its entirety, even if the actions of CIRAD are interesting or that some players like Sahanala & Jacarandas, working on areas with a GPS tracking of the feet, counting lianas year after year, and recently an organic certification to ensure the full traceability and sustainability of the sector with a working base from the farmers, who manage such areas… But there is still much work before these initiatives represent the largest share of this market.
The Madagascar Voatsiperifery pepper is a very rare and prized product of French gastronomy professionals.
Voatsiperifery pepper production workshops are fully integrated, which ensures the quality of our products and to "tailor-made" product for our customers.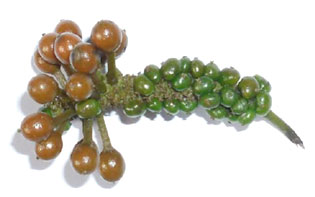 MADAGASCAR VOATSIPERIFERY PEPPER REFERENCES
Red
The most red and shimmering berries are selected to create this quality

Packaged in boxes of 10 Kg
Gourmet
We manually select the most beautiful bays

Packaged in boxes of 10 Kg
Prima
Sorting and strict manual calibration

Packaged in boxes of 20 Kg
Powder
250-300 microns milling obtained by grinding and rescreening

Packed in bags of 25 Kg